About Anael
ANAEL IS A NEW AGE VOCAL ARTIST BORN AND BASED IN CANADA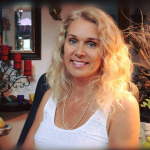 Anael, a Canadian
Born Artist.
Her music leads her listeners towards greater healing, self-awareness, and deeper spiritual understanding, and has always been doing so, since her advent on the musical scene. Says Audrey DeLaMartre of The Phoenix (Minneapolis, MN), "The healing and inspiring powers of this CD ("Light of Refinement") have been my companion for two weeks. It has lifted me to a clear and shining place and given me new spiritual strength." Beginning with the healing and balancing of our own inner selves and our continuous intentional emanation of positive energies out into our personal environment and interpersonal relationships, this healing will naturally radiate into the world by way of our thoughts and deeds. Through the means of the songs which remind us of the high personal standards each person would seek to embody and exude, we can realize this healing for the planet and for the world community at large, simply by living from a more awakened perspective.
Literally translated from Hebrew, her name (pronounced "anna-el" and not the sometimes mispronounced "ah-na-el") means "Song of God" ~ Ana (Song), El (God). Her music is largely comprised of spiritually expansive lyrical content accompanied by vibrant and masterfully performed orchestrations, specifically designed to showcase her own crystal-clear, ethereal vocalizations. As described by Dan Liss of the New Age Voice when reviewing her first album ("Light of Refinement") in 1998, "Over seamless, flowing orchestrations she invites the listener to meditate, pray and examine their circumstances and choices. Her voice sails swiftly, smoothly so that you can absorb her themes after she's enchanted you with her delicate maneuvers and you're already following her through the airwaves."

She is trained in and fully embraces Homeopathy (Homeopathic medicine), as she herself explained in an interview with Russell W Elliot in 2000, "Right now I'm at the final stage of a four year course in Homeopathy. I always had an interest in soft medicine. I love to help others as much as I can. My conclusion is simple compassion, forgiveness, be kind to others, respect every living thing and I try to apply that in my everyday life." Being so attuned to the subtle effects of energies upon the human organism, she seeks to express systemic (holistic) healing and spiritually uplifting energies within her music, as well. It remains the single most important element of her and partner Bradfield's joint creation of their art.

Between the carefully considered tones and the deeply pondered lyrics, each song is a world of energetic information unto itself. In recently developed studies performed by Dr. Andrew Colyer, while the average positive-message popular song playing on the radio will register somewhere between 150-300 on this energetic frequency scale (based on Reflexology) developed by Dr. David Hawkins , several of Anael's songs measure in the range of the high 400's to low 500's. Her music is exemplary expression for extraordinary effect for the person looking for music that is designed specifically as a facilitation for spiritual expansion and development.

Though several of her songs seem to embody a subtle sort of religious overtone quality, they do not endorse (nor exclude) any single religion or philosophy, but rather create a synthesis of many different traditions in an attempt to bring to the fore the best attributes of the world's various faiths and beliefs for the mutual benefit of all who would listen. As written in The New Times (Seattle, WA) by David A. Young concerning her 1997 debut album, "'Light of Refinement' is clearly the music of someone doing her soul work, and listening to it makes doing ours easier and a little more beautiful. To me, this music sounds like a spider's web, with just a bit of dew on it, looks: both fragile and strong; deceptively simple and yet underpinned with the complexity and mystery of life itself."

UPLIFTING THE SPIRIT
Her sound is highly accessible for all sorts of people – across the spectrum of all spiritual beliefs held – and does not "preach" at the audience in any way, but rather seeks to ever only softly enhance and gently uplift the spirit of the listener. Bill Binkelman of Wind and Wire had this to say about her first musical offering, Light of Refinement, in his final analysis: "Normally I don't enjoy vocal albums as much as I found myself doing with 'Language of the Soul'. While I can't (and never do, as a rule) comment on lyrical content quality (who am I to judge lyrics, after all), I can state that the CD is highly listenable and very rewarding from an emotional standpoint. The music itself is not "light" but the experience of listening to it is quite positive and affirming. Part of this is, no doubt, owing to Anael's voice. The other part of this is Bradfield's catchy yet never sugary or overly pop songs. There is more than enough "going on" in these compositions to hold the attention of the more jaded music fan. In fact, I'd go as far as to say that Language of the Soul is a lot more interesting (and in my opinion, just flat out better) than the last two Enya releases. While not as lush or "ethereal," the blend of instruments with Anael's voice is much more balanced and 'human.'"

Born Annie Tremblay on February 1, 1964, Anael hails from Jonquière, a small city on the Saguenay River in the northern region of Quebec, Canada. She started singing at age 2 and knew 30 songs by heart by the age of 5, yet it was in her teen years that she began to take her musical gifts more seriously. At the age of 12 she took a few piano lessons, and at 16 she started playing acoustic guitar and writing her first songs. At 18, after winning one of several local talent competitions, CBC Television made a studio recording and video for her song, Hymne à la Paix. Years later, this song would be re-recorded and featured on her 3rd album, Language of the Soul.
She continued to sing her own songs mainly in private functions for the ensuing years, and finally took a leave of her musical aspirations to have a child in her young adulthood.

MEETING BRADFIELD
At the age of 28, she met composer / poet / producer and musical visionary Bradfield®, who would become both her mentor and partner in life. Together they founded APSIS Music ~ Music for the Human Spirit, an independent Canadian label dedicated to the utmost exploration of the human experience. Her own musical vision had at last found its heart and home.

ANAEL'S ALBUMS
Since meeting in 1993, they have collaborated on 15 albums – Light of Refinement (Anael, 1998), Unconditional (Anael, 1998), Language of the Soul (Anael, 2000), – and one philosophical overview DVD, dual-disk packaged with favorite singles from her first 5 years on CD – Greatest Gifts (Anael, 2003) for the New Age genre, Spiritual Beings on a Human Journey (Anael, 2004), Once Upon a Dream (Anael, 2005), Buddha Spirit (Anael, 2006), Buddha Spirit 2 (Anael 2007), Light & Love (Anael, 2007), Greatest Gifts 2 (Anael, 2007), Buddha Spirit 3 (Anael 2009), Anael ses plus belles chansons (Anael 2013). En plus de trois livres audio : Lumière et Amour (Anael 2008), Se Reconnecté à notre Divinité (Anael 2011), Poésie en Lumière (Anael 2012).

Bradfield has his own creations as well and relentlessly to this day, continues to create amazing music for the world : Harmony in the Chaos (1995) and two piano instrumental albums – Virtue (2001) and St. Peter's Gate (2004), Within our Reach (featuring Anael 2005), Sacred Signs (featuring Anael 2006), Exhilara (featuring Anael 2006), Sacred Signs (featuring Anael, Spring 2009), Exhilara (featuring Anael, Spring 2009), Heart of Buddha (featuring Anael 2010) Sacred Signs 2 (2010), Becoming (2011), Healing energy (2013), Healing Energy 2 (2013), Heart of Mary (2014),  Mantra Spirit (2015), Heart of Gaia (featuring Anael 2016). For a total of 33 recording projects between them, spanning the past 21 years, show their prolific work and passion for their cause.

Beginning with the 1997 release of her own Light of Refinement, Anael has experienced a slow yet steady climb into the public awareness. Each of her first three albums garnered significant airplay on New Age radio throughout the world, reaching the top 20 in the now defunct trade publication New Age Voice (Atlanta, GA). Her third release, Language of the Soul, was a finalist for the 2000 New Age vocal album of the year in the same publication. In the words of Carl McColman of New Age Voice, "It's tempting on several levels to compare Anael to Enya, from the similarity of their names, to the ethereal artwork of packaging design, to similar atmospheric grandeur in the music and vocals, but in the end, that would be a disservice, for Anael is far more than a mere knock-off."

The later 1998 release of Unconditional prompted Walt Grealis of RPM Weekly (Toronto, ON) to express, "A beautifully segmented follow-up to her 1997 release which gained her an international audience. This 'Unconditional' show opens with 'Sanctus', cleverly adapted from the Roman Catholic liturgy, and that sets the scene for more of Bradfield's genius writing. Anael's crisp, pristine and angelic vocals graciously weave that magic so necessary in creating an aural vision of the author's words. The spiritual content goes without saying, almost in the realm of soul cleansing. All descriptives aside, Anael and Bradfield make beautiful music together."

From Serge Kozlovsky, a Belarus journalist, regarding Language of the Soul (1999): "Her sincerity and open feelings touch you from the very beginning of the composition 'Come Raggio di Soleil' and don't leave until the last chords of 'Crastina Die', plunging the listener into an unbounded ocean of feelings, where tenderness, sweet sadness, deep trust and joy of unconditioned love all melt sweetly together."

A review of her fourth album, Spiritual Beings on a Human Journey in 2003 has Jean Doyon of SorelTracy.com saying, (translated from the original French) "Singer of great spirituality, Anael vibrates with the energy of love: helping to raise the collective consciousness so that humanity can fulfill its destiny, bringing in its wake peace and prosperity. She believes that we can all tap into this universal energy, even in these difficult times."
In October of 2005, her album Once Upon a Dream reached #4 on iTunes' top 100 New Age music chart, and spent over 2 years among their top sellers, igniting further interest in her music internationally as well as closer to home.

Conceived, compiled and produced for the Fire the Grid worldwide meditation, Light & Love – a compilation assembled in a highly specific manner suggested by Shelley Yates as led by her Light guides – peaked at #5 across all musical genres in the Quebec Loisirs Spring 2007 Catalog.
At Amazon.com in July 2007, her albums Light & Love and Spiritual Beings on a Human Journey reached #2 and #4, respectively, and Light & Love peaked as the #1 most popular item in their New Age music section.

KOREAN TV DRAMA "SANG DO"
In 2002 , the Jonquière, Quebec native was invited with her partner, Bradfield, to sing the theme song for the popular Korean TV drama "Sang Do." The pair traveled to Seoul and ended up collaborating also on the English version entitled "This Heart of Mine," which was heard by five million viewers each week for the entire season. Celtic in flavor and somewhat of a departure for Anael, it was a wonderful experience which only strengthened her ideas about respect for other cultures. As Anael stated, there are 12 million people in Seoul – and less crime than here in America. It tells you something about the level of consciousness – there's always something to learn from everyone.
The pair contributed two songs (Come Again, I Believe and One Brief Dream) to the soundtrack of another Korean production, the film, Calla, as well.

INSPIRATION AND HARD WORK
Anael's music is meticulously crafted in a wholly intuitive manner. The majority of the material is composed by Bradfield, who works in synergy with the subtle inspiration of Spirit to bring forth the creation of a musical piece. Utilizing personal meditation, communion with Nature and prayer to nurture his vital connection to Source energy, and deeply motivated by the various spiritual concepts, human experiences and emotions with which we all engage, a melody or lyric will begin to develop which he then assertively expands upon and gently refines. In the course of developing a song from the time of its inception to that of the finished recording, Bradfield may hear the same piece 400-500 times, clarifying and burnishing it to its ultimate perfection. As he shares himself in the liner notes of Anael's Greatest Gifts DVD, "As a composer, being able to create my own music, the experience is naturally more intense and much like a wave: 25% magic, the rest: hours of refinement and patience."

There is generally a theme in the process of creation, a type of overview of a spiritual philosophy or ideal at play, a simple lesson in the teaching, in the creation of both the songs themselves as well as the final compilation of an album – from the initial development of the particular musical arrangement and carefully crafted lyrics and even the small embellishments included in the finished musical composition, to the order of the songs on the album itself and the product packaging, all of which is very thoughtfully brought together to create the perfect gift of love for the listening audience. In this manner, Anael's albums have a very easy flow about them, one song's thought leading seamlessly and effortlessly into the ideas of the next, all while inviting the listener to participate along with her in a deeply intimate spiritual experience of inspiration and expression.

Anael is often compared to Enya – most likely because her music is generally soft and melodic, and they both share a sort of other-worldly quality in their sounds (albeit very different from each other). Her music is "New Age" in its form and flow, but it affects a far more decisive mental and emotional impact when it comes to the deeper meaning behind the music, delivering simple, gentle spiritual instruction through the medium of exquisite sound. Though there are select songs that might be likened to having a sort of "Celtic sound", there are no songs that are composed to showcase it in particular.

The songs run a wide gamut of styles, however, from the familiar feel of modern soft pop to sounds reminiscent of Classical Baroque music or Renaissance music periods, with cultural influences from many places across the globe. In some instances, the songs are deceivingly simple in their construct and performance, and then in others the orchestrations are rich and full and sometimes almost overwhelming in their scope and beauty. And, almost always, Anael's clear, heart-centered and thoughtfully delivered tones are the fulcrum of the movement of the entire sound.

A TRUE ALTERNATIVE SUPERSTAR
In the words of Chris Spector (Midwest Record Recap), reviewing Spiritual Beings on a Human Journey in 2003: "Forget about Clear Channel, this set will clear channel its way to the top of the charts at new age, women's and recovery book stores everywhere. With a lovely voice and poetry that goes well beyond affirmation pablum, Anael is a true alternative superstar. A really dazzling goddess lite collection, you don't need Oprah to tell you which way the wind is blowing here. The kind of genre set that surprises you by the way it turns up in so many places with seemingly so little being heard about it. Check it out."

By far, the most ambitious and farthest-reaching of Anael and Bradfield's joint projects to date has been the Fire the Grid worldwide meditation which they co-founded with Shelley Yates. At Shelley's request, they donated songs for this monumental effort (Sky Sent (Disclosure) and Be Still Thy Soul – both to be found on the albums Spiritual Beings on a Human Journey and Light & Love) – which have now been downloaded for free over twelve (12) million times, combined, from the Fire the Grid website. It is conservatively estimated that ten million souls participated in the meditation which took place on July 17, 2007 at 11:11 GMT across the globe.

Shelley experienced an extraordinary NDE (Near Death Experience) event after a car accident which resulted in the drowning near-deaths of both herself and her young son, in which she was introduced to spiritual "beings of Light" who explained to her how to go about saving her son from the brink of death with the loving aid of people who would share their energy with him.

Eventually, they were to teach her about the energetic nature and needs of the planet and all life upon it, and present her with the first steps in a plan to help alleviate the societal, environmental and spiritually energetic problems we all face. The meditation thus created was designed to bring together many people to pray, meditate, or just ponder upon loving and healing thoughts directed towards the heart of the planet, in order to affect the beginnings of an energetic healing process for Earth and all her inhabitants.

As Shelley Yates describes it herself in the liner notes of the Light & Love album, she "was directed to perform a massive energy transfusion for the earth and her inhabitants" (ed. – just as had been performed on behalf of her then-dying son after the drowning accident in which they had been involved, only on a far grander scale) "by assembling a mass meditation globally with hundreds of thousands of loving humans each contributing their energy to heal the earth and catapult it into the new time of Aquarius ".

"This is the dawn of a new era where we, as a dedicated group of humans will forge a sharing mentality that will change the earth's course and its outcome."
By way of some newer scientific studies being conducted at Princeton University in the last several years, there is some reason to believe that this is a true possibility.